Why marine heavy lifting air bags?
Peerless lifting capacity. Cylindrical shape, low pressure marine heavy lifting bags work on volume rather than pressure to create the lift. Those lifting bags can lift 300-500 tons one piece.
Low pressure means safer, rate pressures of Cylindrical marine heavy lifting bags normally do not exceed 2 bar.
Big inflation height. Maximum extended height of marine heavy lifting air bags can reach 2 meters.
Can roll under load. Different from square or rectangular lifting bags, marine heavy lifting bags can roll with load which is extremely useful for load moving.
Heavy duty. With 6-10 plies reinforcement layers, Cylindrical marine heavy lifting bags can withstand most abrasion and puncture.
Flexible: Cylindrical marine heavy lifting bags can be folded ,stacked, hoisted easily.
Long life span: with normal care and maintenance, cylindrical marine heavy lifting bags should work well over 6 years trouble free.

Available Specification
Marine heavy lifting air bags diameters vary from 0.5 m to 2.5 m
Marine heavy lifting air bag lengths vary from 3 m to 25 m
Marine heavy lifting air bag layers available from 5 to 12 ply
Heavy lifting bags Details
Item                                                                                                    Pneumatic Lifting airbags
Basic specifications
model                                                                                                  YTHL
max. working pressure                                                                    2.5 / 0.25 (bar/Mpa)
Performance
max. lifting capacity                                                                         5000 / 500 (kN/T)
max. inflation height                                                                        2000 mm
thickness incl. profile                                                                       30 mm
Insert height                                                                                      200-300 mm
material                                                                                               reinforced with multiple nylon layers
Safety coefficient                                                                               at least 5 times
connection                                                                                          Custom made
Dimensions, weight and temperature
weight, ready for use                                                                          100-1000 kg
thread hole                                                                                           M6 thread size
temperature range                                                                             -20 + 55 °C
Package for shipment                                                                        Deflated and fixed to pallet
Performance of marine heavy Lifting air bags
Marine Heavy lift airbag (D 1.5 M x L 10 m, 6 plies)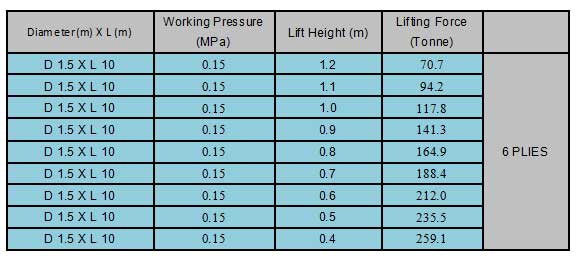 Marine Heavy lift airbag (D 1.8 M x L 15 m, 6 plies)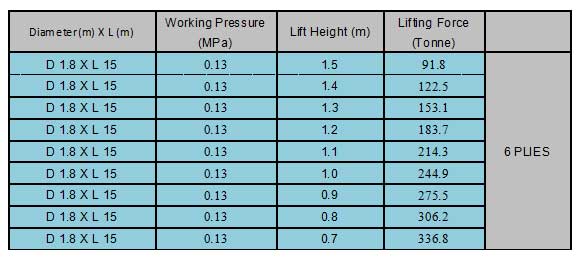 Performance data of other sizes heavy lift air bags are available upon request.
Various applications of marine heavy Lifting air bags
Marine heavy lift airbags are normally deployed to handle with heavies of hundreds or thousands tons.  Some successful using in different fields:
Tank lifting include LPG tank lifting, oil tank lifting,
Vessel lifting (salvage), pipe lifting and moving,
Caisson lifting and moving,
Culvert lifting and transportation
Guidelines of heavy lift airbag using : http://eversafemarine.net/guidelines-of-using-airbags-for-heavy-lift-and-structural-moving-1-new-solution-for-caisson-culverts-lifting-and-moving/
Customer Reviews
The Evergreen heavy lift bags are powerful tools for our lift and transport projects.The heavy duty design make them always reliable.

Stephen Christian, P.Eng.

Project Manager

Mammoet Canada

Those pneumatic rollers are amazing versatile. They can lift thousands tons weight with low pressure,thus being very useful for floating structure lifting and transport.

Detlev Ahlert

Systems Engineer

ALE LIFT
Structure relocation or heavy load out with airbags is the extended application of airbag ship launching/docking technology. Airbags have big contact area with transported objects  bottom thus they have low impact on structure. Airbags can lift thousands tons heavy up, can move heavy into water or out of water, regarding this character its advantage is peerless.
SPMT stands for self-propelled modular transporter, a platform vehicle with a large array of wheels; it is equipped with Power Pack Unit which provides the propulsion.
Lifting Capacity
The SPMTs consist of four-axle units or six-axle units, the maximum allowable axleline payload is 30 tons per line.
Airbag's lifting performance 

| | | | |
| --- | --- | --- | --- |
| Airbag specification | Load | Lifting height | Airbag pressure |
| 1.0 ×15 m | 471 tons | 0.5 m | 4 bar |
| 1.5 ×15 m | 235 tons | 1.0 m | 2 bar |
| 2.0 ×15 m | 420 tons | 1.0 m | 1.8 bar |
Accessible Space Heights
Deflated airbags can be inserted into 20 cm height space. The lifting distance can reach  1.5- 2 meters.
The trailerdeck of Kamag and Scheuerle SPMTs can be lowered to 1.2 m, so they can only be driven into higher space. The lifting distance of SPMTs is about 50-60 cm.
Load out
SPMTs vs Airbags 

| | | |
| --- | --- | --- |
| Items | SPMTs | AIRBAGS |
| Allowable Structure shape | Frame work, irregular shape | Flat bottom |
| Assistant equipment | No | Pulling system |
| Load distribution | Load can be kept flat and evenly distributed automatically | Load can be kept flat and evenly distributed manually |
| Steering radius | Big | Small |
| Speed | Less than 1.6 KM per hour | Less than 0.6 KM per hour |
| Submerge | Not allowed | Allowed |
Steering
Each individual wheel can swivel independently from other wheels so SPMT can turn, move sideways, or even spin in place.
Marine airbags heavy transport can also be steerable by manual adjusting airbags inclined angles. Obviously this performance is not as convenient as SPMTs do.
Steering Radius
From theory calculation the possible steering radius of airbags and SPMTs of load transport should be same. Considering load capacity/meter of SPMTs is not optimal, SPMTs steering radius should be bigger than marine air bags.
Moving Speed
SPMTs often move at under one mile per hour while fully loaded.
Marine airbags heavy transport speed is decided by the winch speed which is often less than 0.6 KM one hour.
In a conclusion, SPMTs is good at heavy load out or transport. Marine airbags heavy transport only suit for regular structure with possible flat bottom and short distance transport.
As mentioned before marine airbag is not a high developed industry product but that can not cover its advantages for some heavy lifting and transport or load out applications. Such as concrete caissons load out projects, marine airbags are found to be most convenient and economical method to be used. Marine air bags can roll a load into water directly which can even save the semi submersible barge. Steel cofferdams weighing 3000 tons had been transported from construction spot to river bank and launched successfully.
The SPMT is a classic solution for heavy load transport. It is versatile, extendable and often the only viable solution for large structures. However, the classic SPMT has some drawbacks: it is ill suited for indoor operation due to its combustion power source. It has a high deck height, making access to the cargo difficult or requiring extra lifting systems to put the load onto the SPMT. It's load capacity/meter is not optimal and it needs a lot of space. Many SPMT types are not fully omni-directional and it is not easily automated. Their hydraulic circuits of the hydraulic motors experience high pressure peaks which often lead to oil leakage, the same goes for the hydraulic suspension. The classic SPMT requires a high maintenance schedule resulting in high costs. On the whole they come to be not cheap.