Evergreen netless type foam filled fenders meet the most stringent quality and performance demands providing tough heavy-duty fendering systems for harbor, offshore and ship-to-ship applications.
Construction Features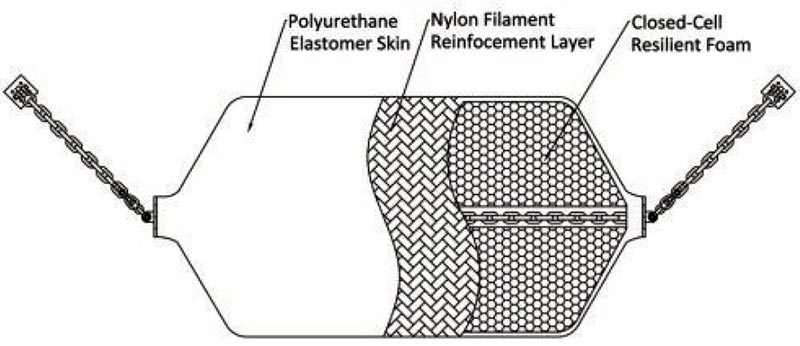 Completely filled fender shell with energy absorbing foam core of closed-cell cross-linked polyethylene foam. The foam core is homogeneous and of one piece fabricated construction .This resilient foam-filled construction provides an unsinkable fender body that permits high energy absorption with a relatively low reaction force compared to most other fendering systems.
Evergreen foam filled fenders' skin is constructed of a urethane elastomer which is reinforced with nylon filament in a continuous winding process. Meanwhile, multiple homogeneous layers increasing strength and additional reinforcement are applied as the transition layer. Special layers are applied to both ends where stresses are highest. This system enhances the ability of resisting to deflection and shearing force.
Heavy duty internal chain connecting the end fittings is applied to transmit tensile loads through the fenders. (This will be equipped as per clients' requirement.)
The integral swivel end fittings provide secure point of attachment without obstructing, even when the fender is compressed. The fittings are constructed of top quality steel.
Advantages 
 High Energy Absorption and Low Reaction Force
 Wide Range of Standard and Custom Sizes & Colors
Tough, nylon filament reinforced polyurethane skin
Performance Table of regular Foam fender
Diameter x Length
Standard Capacity Foam Filled Fenders
Metric
English
Energy Absorption at 60% deflection
Reaction Force at 60% deflection
(mm)
(ft)
(ft-kips)
(ton-m)
(kip)
(ton)
700 x 1500
2.3 x 4.9
19
3
30
13
1000 x 1500
3.3 x 4.9
35
5
39
17
1000 x 2000
3.3 x 6.5
50
7
57
26
1200 x 2000
3.9 x 6.5
67
10
63
28
1350 x 2500
4.4 x 8.2
112
16
94
42
1500 x 3000
4.9 x 9.8
171
24
130
59
1700 x 3000
5.6 x 9.8
208
29
139
63
2000 x 3500
6.5 x 11.5
335
47
190
86
2000 x 4000
6.5 x 13.1
398
56
226
102
2000 x 4500
6.5 x 14.7
460
64
261
118
2500 x 4000
8.2 x 13.1
591
82
269
122
2500 x 5500
8.2 x 18.0
885
123
402
182
3000 x 6000
9.8 x 19.7
1365
189
516
234
3300 x 4500
10.8 x 14.7
1105
153
380
172
3300 x 6500
10.8 x 21.3
1786
248
614
279