Sling-type fenders are available from D 500 mm x1000 mm L to D4500X12000 L. All fenders have an attachment eye on each end for lifting and installation. Due to their lightweight, handling of sling type fenders is easy .Sling type pneumatic fender suits for STS or ship berthing with good conditions.
Variuos design
Rubber Jacket (Up to Diameter 2.0m fender)
Rubber jackets are popular for Oil tankers, LPG-ships and cruise ships applications because of the low reaction force and risk of spark to the ship's hull.
Grey or Cream White Color
Grey rubber is a specially composed of rubber and color compound. Creamy white color is also optional for manufacturing.
Navy gray and white color fenders are welcomed by navy ships or luxury yachts.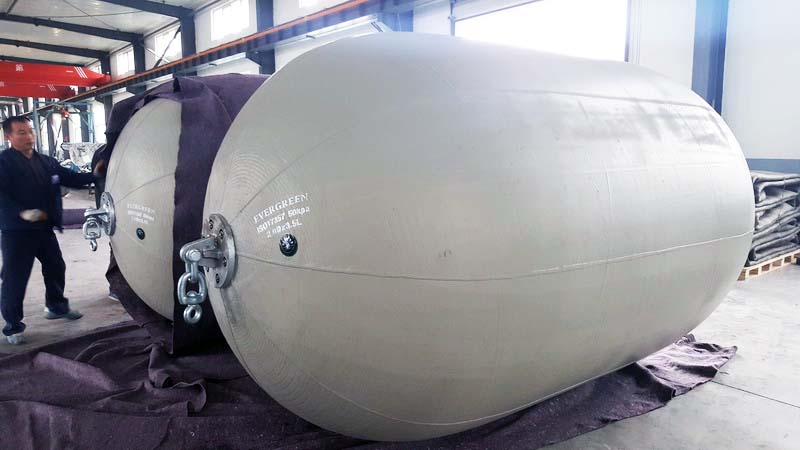 Light Weighted or Increased Wall thickness
We can make light weighted sling type fnders or fenders with increased wall thickness to suit for different applications.
Light Weight fenders are focused on portability, and are small and light for convenient use with cruise ships and other small boats.
Sling type Pneumatic fenders with increased wall thickness can have better resistance to abrasion and shear forces.
With minor modification, sling type pneumatic fenders can be water-ballasted and installed vertically for catamaran ships, semi-submersibles platforms use.
Shipping Cost Minimization
Sling type pneumatic fenders are usually deflated and packed onto pallet for container loading, by which can save much shipping cost.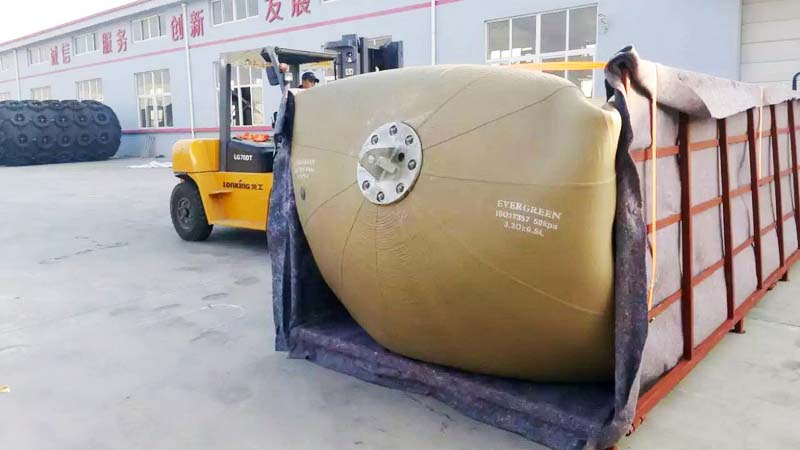 Advantages
The utilization of the compressive elasticity of air, unlike other fenders which need protector panels, provides completely uniform surface pressure on contact, making Eversafe Pneumatic Rubber Fenders ideal. The surface pressure of Pneumatic Rubber Fenders is equal to the internal air pressure.  Due to low and uniform surface pressure properties, the Pneumatic Rubber Fenders are popular at LNG-ship terminals.
Although all fenders should be used within their maximum load limit, it often happens that fenders accidentally receive excess load. The reaction force of Pneumatic Rubber Fenders does not increase sharply, even under excess load conditions. Therefore,  Pneumatic Rubber Fenders perform well in such cases, and protect ships and mooring facilities. In contrast, the reaction force of solid rubber fenders, including buckling-type fenders, increases sharply under excess load conditions.
After contacting a dock, a ship is usually shifted to the correct mooring position. The shifting exerts shearing and compression forces on the fenders. This combined force is very severe in the case of solid rubber fenders because they are not reinforced against such force. In contrast, Pneumatic Rubber Fenders are adequately reinforced using strong tire-cord to cope against such forces as well as internal pressure.
The weight of Pneumatic Rubber Fenders is supported by the water on which it floats. Therefore, the fender can be moored simply by means of a guy rope or chain, requiring minimal extra cost. It can be removed easily to a suitable jetty or quay when not in use, or transferred to another mooring point whenever required.
In order to minimize the shipping cost of Eversafe Pneumatic Rubber Fenders, the fenders are usually packed and shipped in containers or on pallets in vacuumed and folded down state.