Here airbag means marine airbags not the safety airbags deployed on Vehicles. Marine airbags are also well known as ship launching airbags or docking airbags, used in maritime industry. Those rubber airbags are strong and durable, have more than 6 years lifespan. But they are made of rubber and nylon cords, they can be punctured by sharp steel or stones.
Airbags can be repaired, good repair can restore full performance of airbags.
What should you do when find air bag punctured ?
Leave or replace it
When you notice air leakage of airbags during the process of ship lifting, launching or docking , test the air leakage speed, if can not find air pressure dropping from the pressure gauge in 10 minutes, you may just leave it. The final launching will take only 1-2 minutes, even some airbags have slight air leakage will not cause any problem.
Or use some rubber sheet to jam the wound, then find a good chance to replace the punctured airbags with a good one. Don't try to stop airbags while they are rolling.
Airbags will not burst while punctured.
How to repair the hole on airbags
Identify hole first
Don't deflate airbags in a hurry, identify and mark the puncture of airbags first.
Tools: mark pen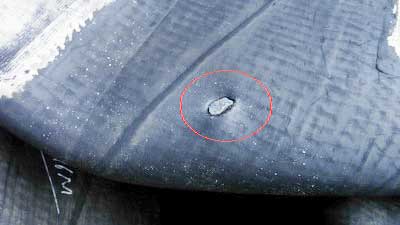 Clean and grind the area of wound, deflate airbags then.
Tools and material required: brush, grinder, gasoline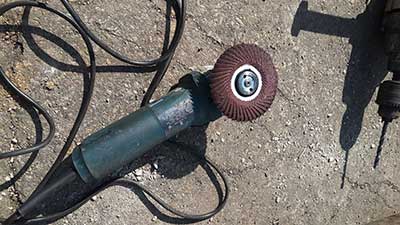 Use a piece of rubber sheet and some glue to jam the hole tightly, then place 3-4 layers cords rubber cover the hole. Each layers will be pasted with glue and press tightly to exclude bubbles.
Tools required: glue, brush, airbag repair material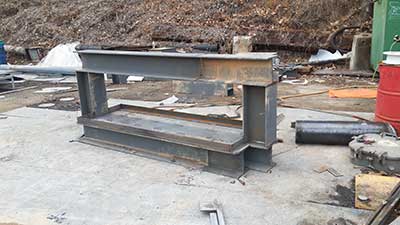 Vulcanize the patch
Use hydraulic jacks to press heating plate and patches tightly with airbag hole. Turn on Evergreen auto repair kits, then come back one hour later. Remove jacks when the heating plate is not too hot to handle with.
Tools and material required: Hydraulic jack, temperature controller, heating plate, bracket, isolating material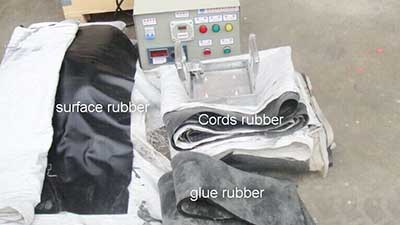 Different brand airbags may have different rubber and cords, the vulcanization time may be different.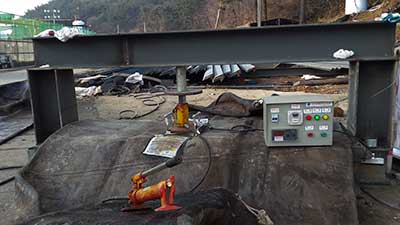 And the environmental temperature also effect vulcanization time. So do a trial experiment to find best vulcanization time is recommended.
How to repair big cuts on air bags. http://eversafemarine.net/how-to-repair-big-cuts-on-ship-launching-airbags/
Airbag repair case:  Repair ship launching airbags for Korean shipyard
Know more about marine airbags: SHIP LAUNCHING AND DOCKING AIRBAGS